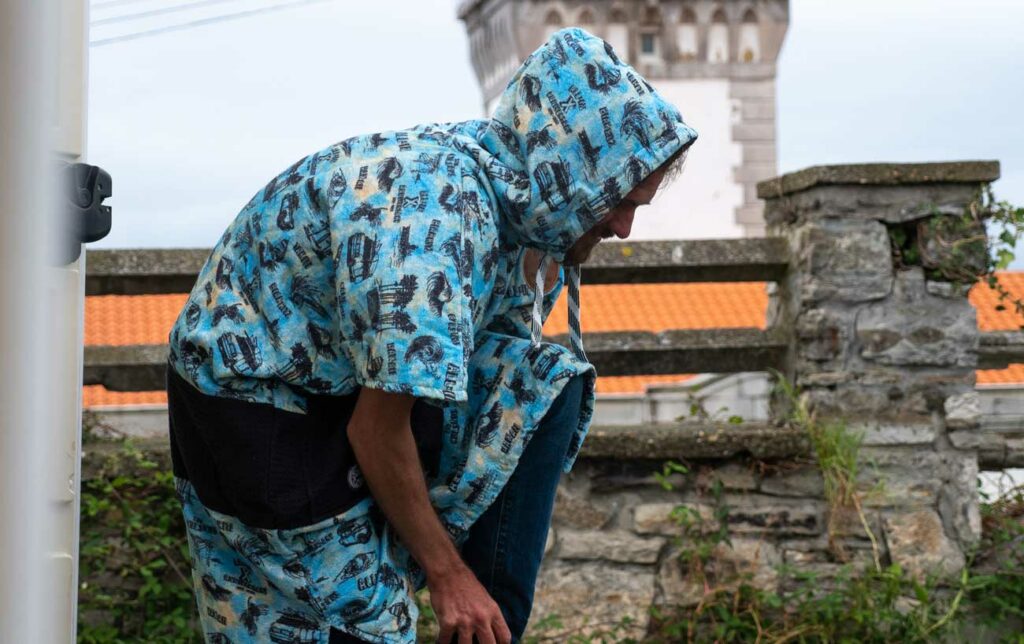 In the world of surfing, one often overlooked item is essential for those cold winter days at the beach: the winter surf poncho. This versatile garment not only keeps you warm after a chilly surf session but also simplifies changing in and out of your wetsuit. We will explore the various features and benefits of winter surf ponchos and why they should be an essential addition to any surfer's wardrobe.
What is a winter surf poncho?
A winter surf poncho is a specially designed piece of clothing that combines the warmth and comfort of a bathrobe with the practicality of a towel. Made from cotton terry, these ponchos are perfect for keeping surfers warm and dry after braving cold waters. They usually have a hood, short or long sleeves for added insulation, as well as ample room to change underneath without exposing oneself to the elements or prying eyes.
The benefits of owning a winter surf poncho
Comfort and warmth
One of the primary reasons surfers worldwide love their winter surf ponchos is because of the unparalleled warmth and comfort they provide. The thick, soft material acts like a portable blanket, enveloping the wearer in a cocoon of warmth and helping to prevent hypothermia or general discomfort after exiting the freezing ocean. Unlike regular towels, which can become damp and cold quite quickly, winter surf ponchos retain heat and keep you feeling snug and cozy.
Easy changing
Winter surf ponchos make changing in and out of your wetsuit a breeze. Gone are the days of awkwardly trying to balance on one leg while struggling to remove your suit, all while trying not to flash anyone nearby. The spacious design of the poncho allows you to change underneath, preserving your modesty and making the process much more comfortable and efficient.
Protection from the elements
It's no secret that winter surf can often come with less-than-ideal weather conditions. Wind, rain, snow, and hail are all common occurrences during wintertime, which is why having a winter surf poncho on hand is essential for protection against the elements. The material of the poncho acts as a barrier between your skin and the harsh environment, ensuring that you remain warm and dry even when faced with challenging weather.
Doubles as a towel
While they may not be as absorbent as a traditional towel, winter surf ponchos can still effectively dry you off after a session in the water. Their large size allows for plenty of fabric to soak up moisture, while the soft cotton terry provides a gentle drying experience without causing irritation to the skin.
Features to look for in a winter surf poncho
When selecting the perfect winter surf poncho, there are several features you should consider to ensure you're getting the most bang for your buck:
Material: Look for high-quality, thick cotton winter-weight terry that will provide optimal warmth and comfort. This material is also well-known for its durability, meaning your poncho will last for many seasons to come.
Hood: A good hood is essential for keeping your head warm and protected from the wind and rain. Make sure the hood fits snugly but is still roomy enough to fit comfortably over wet hair or a beanie.
Sleeves: Long sleeves offer added warmth and protection for your arms, especially when changing in and out of your wetsuit. Some ponchos also feature thumbholes to help keep the sleeves in place while you move around.
Pockets: Pockets are a useful addition to any winter surf poncho, providing storage for small items like keys or wax. They can also be used as hand warmers if the weather gets particularly biting.
Size and fit: Winter surf ponchos come in various sizes and shapes, so it's essential to find one that fits comfortably and allows for ample room to change underneath. Ensure the length is long enough to provide adequate coverage while still allowing you to move around with ease.
Maintaining your winter surf poncho
To get the most out of your winter surf poncho and ensure its longevity, follow these simple care tips:
Wash regularly: To keep your poncho smelling fresh and clean, make sure to wash it regularly according to the manufacturer's instructions. This will also help maintain the softness of the fabric.
Dry thoroughly: After washing, allow your poncho to air dry completely before storing it away. This helps prevent any musty odors from developing and keeps the material in top condition.
Avoid excessive sun exposure: While some sunlight is necessary for drying your poncho, avoid leaving it out in direct sunlight for extended periods, as this can cause premature fading and damage to the fabric.