Rain ponchos & changing robes
Is there a storm in the future forecast? Don't worry, our Rain Vest Changing Robes can handle the weather! You're an outdoorsman who loves the harsh January waves that climb meters high. With the rain pouring and the wind breathing down on you, you need a waterproof coat that knows how to combat these conditions.
Our changing robes give you the comfort and security you need to handle rough weather with a smile on your face. You'll be able to surf, wakeboard, kitesurf, or just enjoy a casual run without the weather being an issue.
Crafted with 100% recycled materials, our rain vest is built with the planet in mind. The outer shell is constructed from a high-quality waterproof and windproof fabric that repels water, keeping you dry even in the heaviest of downpours. The interior is lined with a soft recycled sherpa fabric, ensuring that you stay comfortable, even during intense activity.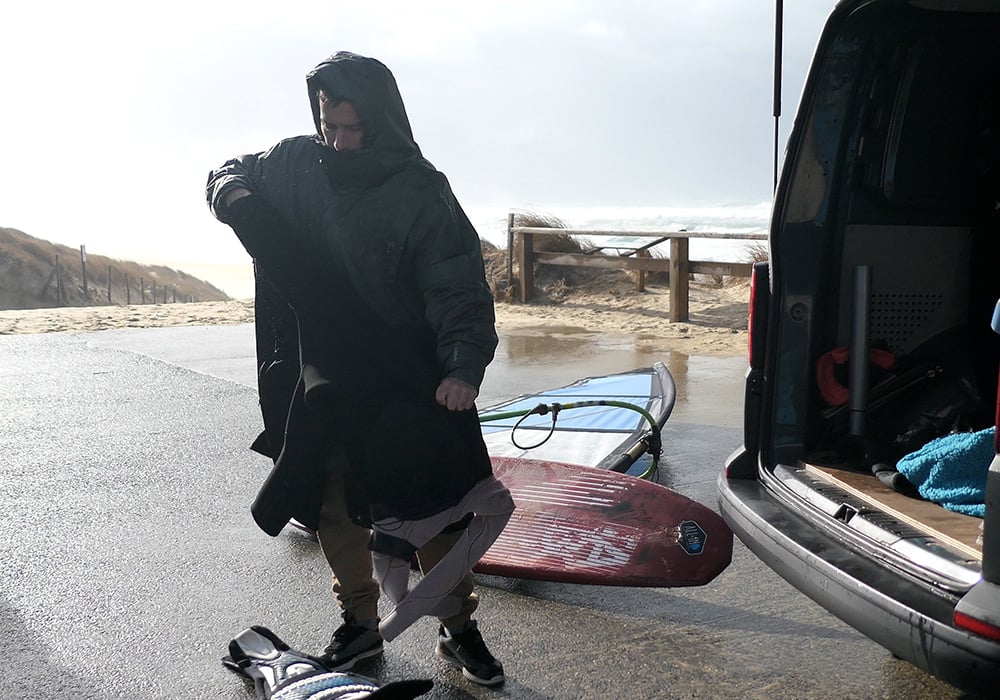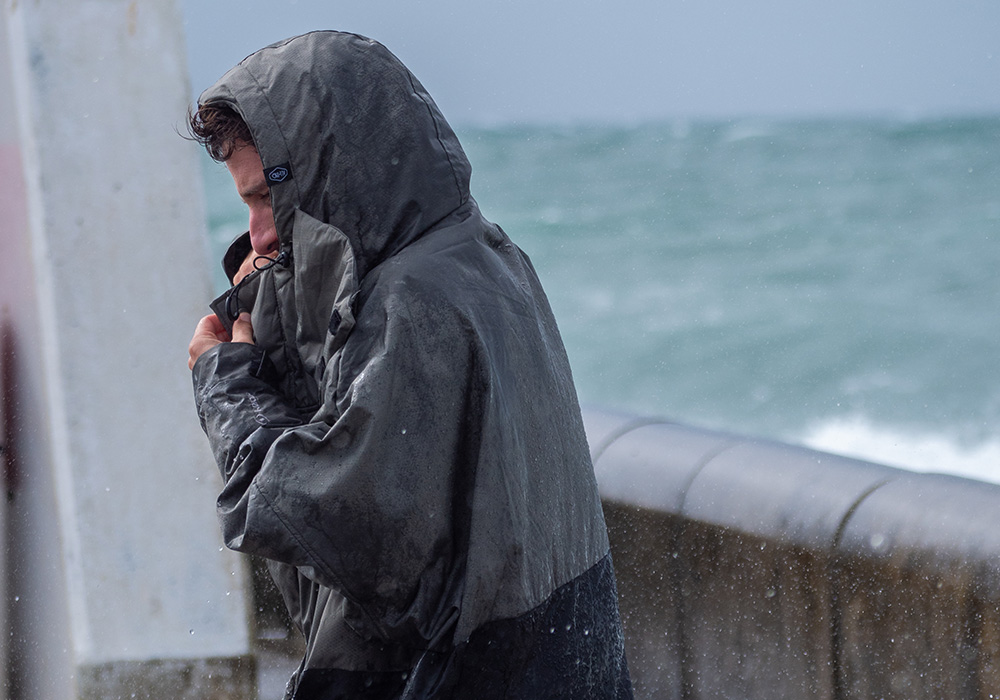 Our rain vest is packed with features that make it the perfect choice for surfers who demand nothing but the best. The front zipper is fully waterproof and prevents water from seeping in while the collar is high and snug, protecting your neck from wind and rain. And the vest is cut with a slightly longer back, providing additional coverage and protection against water and wind.
It is perfect for all kinds of outdoor activities, not just surfing. Whether you're hiking, camping, fishing, or just out for a walk in the rain, our rain vest is the perfect companion.
Flexibility and mobility
We understand that when it comes to surfing, mobility, and flexibility are crucial. That's why our rain vest is designed with these factors in mind. It's lightweight and unrestrictive, allowing you to move freely and comfortably, even in challenging weather conditions. The vest is cut to fit loose on your body, minimizing anything that could hinder your movements. You finally have the freedom to take on the roughest weather conditions that mother nature throws at you!
Stylish and trendy
Aside from all the technical aspects of the rain vest, it's also stylish. It comes in two colors, including black and kaki that are sure to make a statement at the beach. The design is sleek and minimal, with no unnecessary frills or details. This makes it easy to pair with your existing surf gear, whether you prefer a classic look or something more modern and edgy.
They're available in junior and adult sizes so you can dress the entire family in waterproof rain ponchos on the next vacay!
Eco-frendly design
We understand that as surfers, you care about the environment and the impact that your gear has on it. That's why our rain vest is made with eco-friendly materials that are responsibly sourced and produced. We are committed to reducing our carbon footprint and preserving the planet for future generations, and we believe that our rain poncho is just one small way we can do our part. With your support, you'll be joining our efforts in impacting the world on a greener level!
Bad weather won't stop you
If you're a surfer who refuses to let the weather get in the way of your passion, our waterproof rain vest is the perfect solution. With its premium materials and rugged nature, it's the ultimate companion for any outdoor activity.
Not every jacket is made for high winds and endless downpours, but ours is. You wanted the best, well now you got it. So get your surfboard ready because your rain vest is just waiting for the beach.
Are you still not convinced?
Consider these 3 crucial benefits our rain vests offer:
Completely wind and rainproof: Yeah, yeah, yeah, most jackets claim to be weather resistant or made for the outdoors, but our rain vests take it to a new level. No matter how fast the winds are, no matter how heavy the rain is, this rain vest was built for it.
The freedom you need at the beach: Any sport or casual activity at the beach requires comfort. There's no way around it. When you go to the beach, it's your time to relax and do the things you love most. So our rain vests were made with that in mind as their loose fit makes you feel more free than ever.
Help save and restore the planet: Using recycled materials helps reduce global pollution and reduces our carbon footprint. This was made a priority as surfing is a sport that uses the planet's natural landscape as our venue.
This product is particularly suited to people who want to go out in stormy conditions, in the rain and in the cold.
At all events, our recycled products meet the same specifications as non-recycled products. Recycled ristop, for example, is just as strong as conventional ristop.
We offer two sizes: adult and junior. If you're between sizes, for example an adult under 1m60, check your preference. An adult poncho will be looser and more comfortable if worn for moderate physical activity, while a junior poncho will be tighter and therefore easier to wear for movement.