What's built for all weathers, your comfort, and going to the beach year-round? That would be our surf poncho.
If you love spending weekends at the beach surfing, wakeboarding, kitesurfing, or windsurfing then there's no way you can do without a surf poncho. You need a stylish and comfy way to dry off when stepping out of the water on a cool brisk day and our ponchos offer you that comfort in a soothing fashion.
Just throw the poncho on after finishing up a swimming session and you'll be welcomed to a world of comfort you won't want to leave. The fabric is crafted from a blend of rich and premium materials that soak up moisture quickly to keep you dry. If you've ever struggled to find warmth after a cool day at the beach, you won't anymore!
Showing 1–24 of 60 results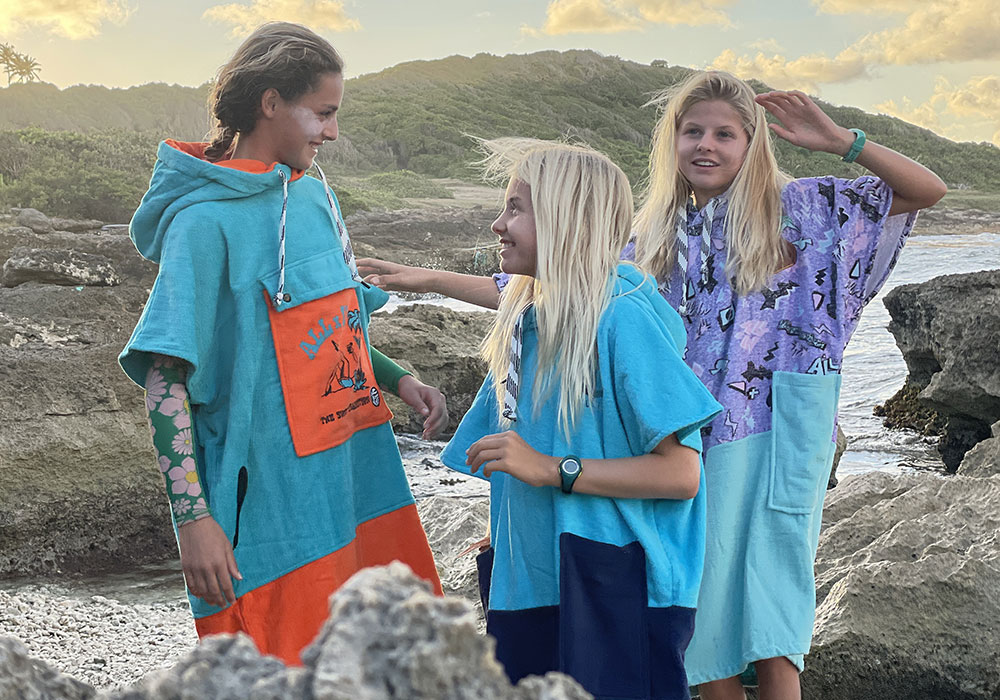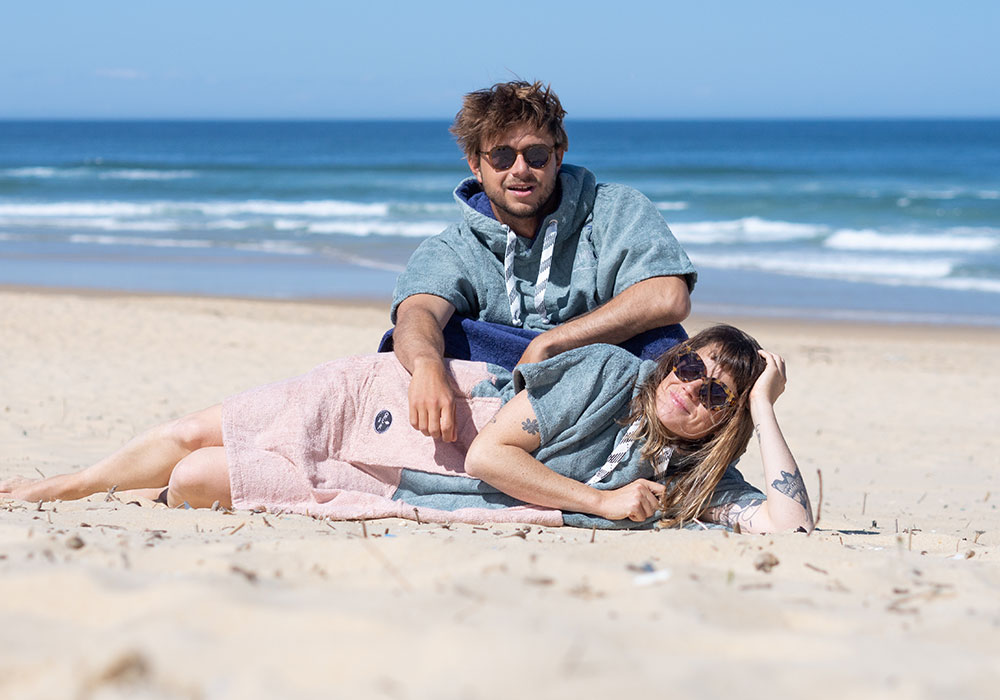 Our changing ponchos are ideal for any weather at the beach or on a camping trip. Wherever your outdoor adventures lead, you'll never experience another cool moment again. The two front pockets provide great depth so you can bury your hands for warmth or store your phone and wallet when heading to the juice bar.
The poncho was made so it's easy to get in and out. You won't be struggling to fit inside the poncho as its loose-fit design optimizes mobility and comfort. You'll have the freedom to move how you want and where you want!
Even if you want coverage during the summer months this poncho has got you covered…literally! It's built for every season of the year so don't worry about getting too hot. Just think of it as a beach towel with sleeves and a hoodie!
Different stylish options
One of the things you'll love most about our beach ponchos is they're not only functional but also incredibly fashionable. With a range of eye-catching designs and colors to choose from, you're going to have fun picking the right one for you or your kids. Whether you prefer bright, bold colors or more understated, classic styles, you're sure to find a waterproof beach poncho that suits your taste just right!
Available in various sizes
Surf ponchos for men : our men ponchos are a little larger (+3,94″) than the women ones. Even if some designs only fall into one of the two categories, you can always assume that a poncho of a different gender will suit you!
Surf ponchos for women : same as I just said, they are a little shorter (-3,94″) and the designs are more "girly" 😉
Surf ponchos for kids : we offer 4 different sizes just for kids from baby sizes to teenagers sizes.
Can be used for several beach sports
Our beach ponchos are also incredibly versatile. They're perfect for a wide range of water sports and activities, including surfing, wakeboarding, kitesurfing, and more. They're also great for simply lounging on the beach or by the pool, providing a comfortable and stylish way to dry off and stay warm at the same time.
What are you waiting for? It's time to get active and comfy!
Great way to warm up on cool days
Do you ever have a hard time warming up on cold days? When you get out of the water and have a cool breeze brush against your skin, it can be discomforting. But our beach ponchos are made from thick recycled materials that keep you well insulated and shielded from the cool beach air.
Now you can go to the beach on cool days and warm up quickly when you need to!
Made with thick materials
Our brand uses a very good quality sponge. Its thickness allows you to feel comfortable in all seasons, and allows optimal drying once out of the water. Its quality is also ideal for skin care. Our products have various quality certifications like OEKO-TEX® and AZO free®.
Are you still not convinced?
Consider these 3 crucial benefits our beach ponchos offer:
Better than a beach towel: Most beach towels don't stay dry like our ponchos nor do they cover your entire body with soft material. But guess what? Our ponchos do and you'll be enjoying every comforting moment inside of it.
Maximum flexibility and movement: Imagine being surrounded by the comfort and warmth of a soft blanket at the beach you can freely move in. We just described our beach ponchos! You'll have all the freedom to run around at the beach and never feel held back one bit.
Protects you from prying eyes : I don't need to tell you how embarrassing it is to find yourself naked on the beach once the towel has fallen off. With a poncho, make this change a pleasant moment!
We offer different kind of ponchos. The most popular is the terrycloth poncho that exists in V shape or in T shape (wich is even better for women). We also have microfiber ponchos and rain ponchos.
We do sell ponchos for every sizes. If you are 6'2 or more, you can grab a "Big Foot Poncho". And if you are at a standard size, we have plenty of adult products. Looking for a poncho for you kids ? We do have 3 separated sizes for the children !
Of course, we advise you to make sure the poncho doesn't get too wet before sitting on your sofa, to avoid damaging it. We also have blanket hoodies for added comfort (but which don't dry after a shower).