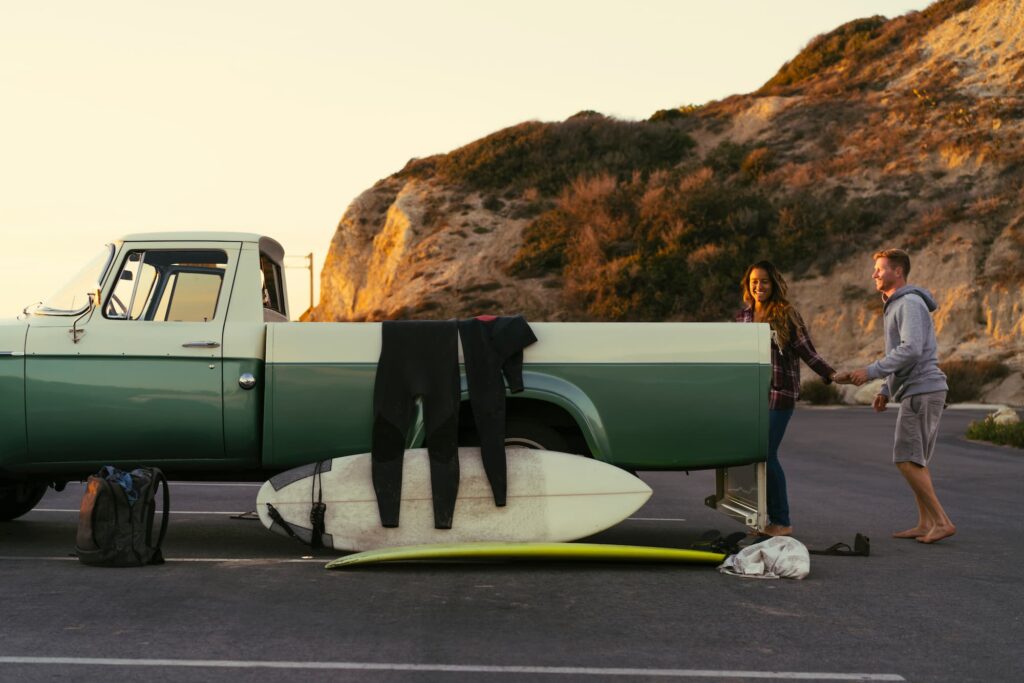 Surfing is not just a sport, but a way of life for many of us. The thrill of riding waves and connecting with nature has attracted people for decades. In the United States, there are numerous beaches known for their excellent surf conditions, picturesque scenery, and rich history. This article will dive into some of the best surf spots in the USA, so grab your board and let's explore!
World-famous surf breaks on the West Coast
The West Coast is home to some of the most iconic surf spots in the world, catering to surfers of all skill levels. Beautiful coastlines and consistently great wave conditions make these locations must-visits for any surfing enthusiast.
Mavericks, California
Mavericks is famous for its big wave surfing and attracts professional surfers from around the globe. Located near Half Moon Bay, this legendary surf spot can produce waves up to 60 feet high. However, it's important to note that Mavericks is suitable only for experienced surfers due to its challenging conditions and powerful waves.
Trestles, California
Known for its consistent, quality waves, Trestles is situated between San Diego and Los Angeles. It offers multiple breaks along the beach, making it popular among surfers of varying abilities. Trestles' Lowers break is particularly well-known for hosting prestigious surf competitions, such as the World Surf League Championship Tour.
Malibu, California
Another iconic West Coast surf destination is Malibu. With a long stretch of coastline offering various breaks, Malibu caters to both beginners and seasoned surfers alike. Its consistent waves and beautiful scenery make it an ideal surf spot for everyone to enjoy.
East Coast gems offering exceptional surf conditions
Moving on to the East Coast, there are several notable surf spots that provide excellent wave conditions and a rich surfing history. Check out these beaches for a unique and unforgettable surfing experience.
Kelly Slater's Surf Ranch, Florida
Although not a natural beach, Kelly Slater's Surf Ranch deserves mention, as it has revolutionized artificial wave technology. Located in Lemoore, California, the Surf Ranch provides a controlled environment with perfect, man-made waves. A visit to this innovative surf facility offers a unique and high-quality surfing experience unlike any other.
Sebastian Inlet, Florida
Located on Florida's Space Coast, Sebastian Inlet is one of the best surf spots on the East Coast. Its consistent waves and warm waters make it a popular destination for surfers year-round. The inlet's First Peak break is particularly famous for producing fast, hollow waves that offer an exciting ride for experienced surfers.
Cape Hatteras, North Carolina
Renowned for its picturesque lighthouse and pristine beaches, Cape Hatteras also boasts some of the East Coast's most consistent surf. With multiple breaks along its coast, Cape Hatteras caters to surfers of all skill levels, making it an ideal spot for both beginners and experts alike.
Surf destinations beyond the coasts
Beyond the iconic coastlines, there are several lesser-known surf spots scattered across the United States. These hidden gems offer a different kind of surfing experience, away from the crowds, and are worth exploring for their unique wave conditions and beautiful settings.
Ocean Beach, San Francisco
Located within the bustling city of San Francisco, Ocean Beach is a surfer's paradise. With its large beach break, powerful waves, and cold waters, this surf spot is best suited for experienced surfers seeking a challenge. The incredible views of the Golden Gate Bridge and Marin Headlands add to the overall experience, making it a must-visit location for any avid surfer.
Shipwreck Beach, Michigan
While not primarily known for surfing, the Great Lakes region offers some surprisingly good surf spots. One such example is Shipwreck Beach in Michigan. Located on Lake Superior's shores, this break features powerful, wind-driven waves that offer exhilarating rides for experienced surfers. Plus, the added bonus of exploring nearby shipwrecks makes this spot quite unique.
Nantucket, Massachusetts
For those looking for East Coast charm combined with great surf, Nantucket is the place to be. This quaint island off the coast of Massachusetts boasts multiple breaks ideal for both beginners and seasoned surfers. Cisco Beach, in particular, is an excellent spot for catching consistently clean waves while enjoying the picturesque surroundings.
Mavericks, California
Trestles, California
Malibu, California
Kelly Slater's Surf Ranch, Florida
Sebastian Inlet, Florida
Cape Hatteras, North Carolina
Ocean Beach, San Francisco
Shipwreck Beach, Michigan
Nantucket, Massachusetts
With such a diverse range of surf spots throughout the United States, there's something to suit every surfer's taste and skill level. From world-famous breaks on the West Coast to hidden gems in the heartland, each location offers unique wave conditions, beautiful scenery, and a rich surfing history. So pack your board and get ready to explore the best surf spots in the USA!