Beach Towel – Arty
$44.95
Crafted from a premium soft cotton fabric that's excellent at absorbing moisture
Choose between several stunning color variants
Eyelet with a drawstring so you can fold the towel and pack it up easily
Quickly sucks up moisture to keep you dry and cool
Velvet terry cloth 380g/m² 100% cotton
Storage pocket and drawstring
Dry off at the beach or pool with our Beach Towels and order yours today!
Product description
You can't dry off at the beach without a towel by your side. Make our Beach Towels your trusty sidekick to any beach day with the family! They're made with a premium soft cotton fabric that quickly absorbs moisture so you can get back to lounging on the beach sipping on piña coladas.
You'll find our beach towels in a range of vibrant and stunning color variants that match the mood of any beach trip. Now you have a new handy towel to dry off with when it's time to step out of the water!
Product specifications
| | |
| --- | --- |
| Weight | 500 g |
| Towel size | Standard size (4'8×2'7) |
| Color | Arty |
| Cleaning | 68°F |
| Warranty | 6 months |
Reviews (0)
Go for the catchy designs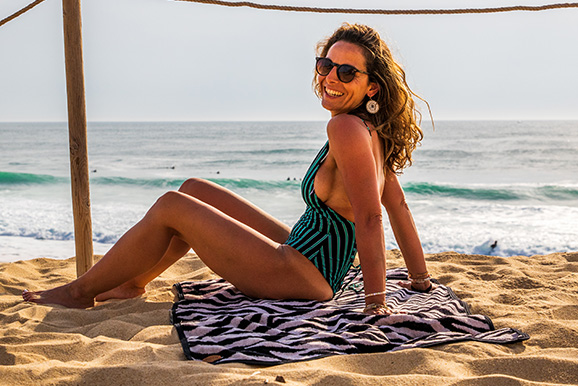 Quality and practicality at your service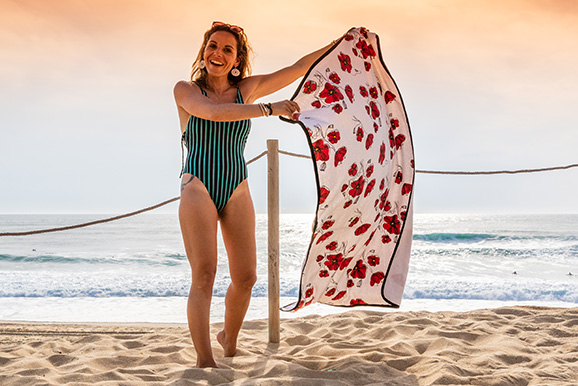 An essential for the beach, pool and water sports: the bath towel. We offer a wide selection of quality beach towels, colorful, soft, fluffy and absorbent, suitable for men and women as well as children. Our honeycomb weave models are ideal for travel or camping as they are very light, compact, and have maximum absorbency. If you are looking for an XL model, our large terry towel is for you. And of course, there is the classic model: comfortable and always nice to look at with its fun colors and prints!