Blanket hoodies are a must have for all americans who want to chill out at home, stay warm on an outdoor trip or just to save money on their heating bills. This home & outdoor accessory democratised with containment during Covid 19. We launched our release in 2020 ! Let's see what is the best for you between a wearable and an oversized blanket hoodie.
Oversized blanket hoodie : for lounging around
The most common type of blanket hoodies is the oversized one. This format is shaped like a blanket to which sleeves and a hole for the head have been added. It's mostly used to chill around because they are impractical for getting around or doing household chores. You can forget about going out in an oversized blanket hoodie if you don't want it to end up full of dirt. What's more, it's a disaster waiting to happen if you're cooking or cleaning with it. Its wide amplitude will get in the way of many tasks. The advantage is that you can use your phone on the sofa without taking your arms out of the blanket. also there is no size problem with it, since it's a one fit all shape for most of the time.
Wearable blanket hoodie : the perfect compromise
We wanted to create an alternative just as comfortable and even more practical to wear with our blanket hoodie. With ours, you can easily keep doing tasks while being well protected from the cold.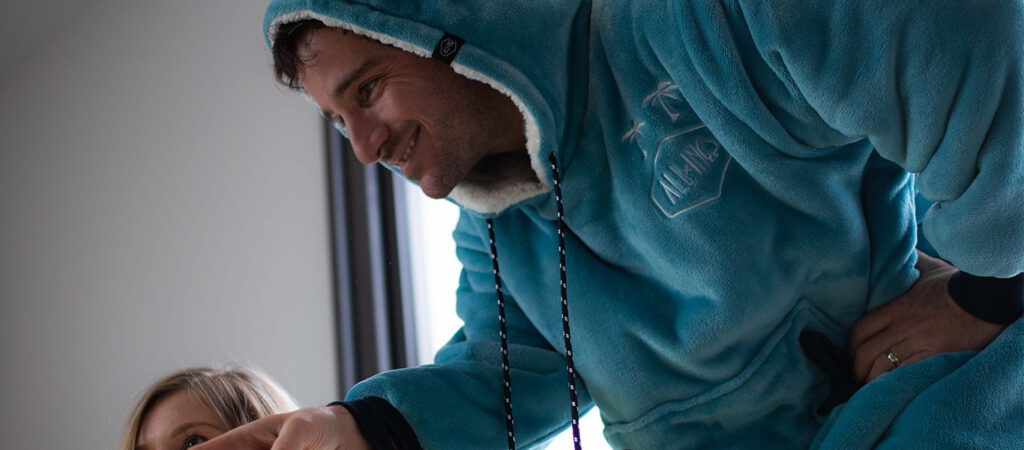 It is also a greet companion for outdoor activities like camping and fishing.
You're not tied down underneath, and you can enjoy even greater freedom with our blanket jacket.
Our recycled sherpa design will make you feel like you're wrapped in a little cloud, whether you decide to stay at home or go for a walk outside.
The slight disadvantage is that you won't be covered on all your legs. So if your use is for couch only, you might take this into consideration!