Whether you're planning a romantic date or a fun family outing, choosing the right picnic spot can make all the difference in your experience. In this comprehensive guide, we'll explore everything you need to know about finding that perfect location for your next outdoor meal.
Consider Your Picnic Goals
Before you start searching for the ideal picnic spot, take some time to think about what you want to achieve with your picnic. This will help you narrow down your options and find a place that truly meets your needs.
Romantic Picnic
If you're planning a picnic for two, look for a quiet and secluded spot where you can enjoy each other's company without interruption. Opt for locations with beautiful natural scenery or picturesque views to create an unforgettable atmosphere.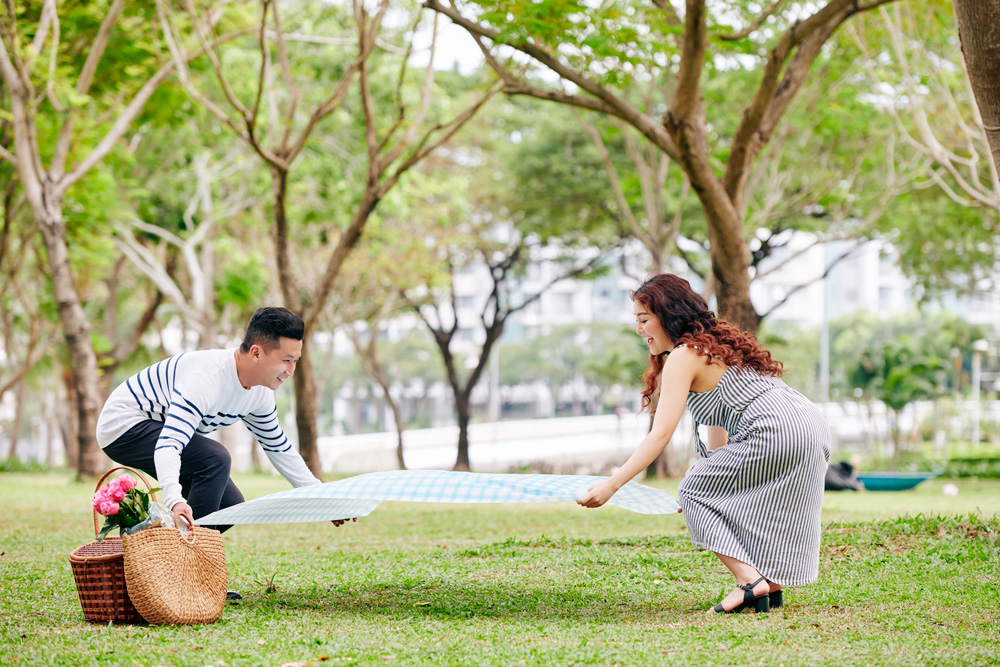 Family Outing
When organizing a family picnic, prioritize spots that offer plenty of space for kids to play and explore. Accessibility is also important – select a destination that is easy to reach and has convenient facilities such as restrooms and parking.
Gathering with Friends
If you're hosting a large group of friends, a public park with tables, grills, and sports facilities might be just what you need. Be sure to check if reservations are required beforehand.
Scout Out Potential Locations
Once you have a clear idea of your picnic objectives, it's time to begin researching potential locations. Consider the following resources to discover amazing picnic spots near you:
Local websites and blogs: Many cities and towns have dedicated websites or blogs featuring local attractions and hidden gems. Look for recommendations on the best parks, beaches, or lakes in your area.
Social media: Use platforms like Instagram and Pinterest to search for picturesque picnic spots that others have enjoyed. Be sure to check out geotags and hashtags related to picnics or outdoor activities in your region.
Word of mouth: Asking friends, family, and coworkers for their favorite picnic locations can lead you to some fantastic, lesser-known spots.
Visit Locations in Person
While online research is helpful, nothing beats visiting potential picnic sites in person. This will allow you to evaluate factors such as cleanliness, safety, and overall suitability for your specific occasion. Here are some key things to consider when scouting out a location:
Ambiance: Does the spot feel inviting and comfortable? Is the scenery appealing?
Seating options: Are there enough tables or benches available? If not, is there sufficient space to lay out a picnic blanket or set up portable chairs?
Shade: Will there be adequate shade from trees or structures to protect you from the sun's rays during your picnic?
Facilities: Are restrooms and trash cans readily accessible? Is parking nearby and convenient?
Noise levels: Consider how much ambient noise from traffic, construction, or other sources might impact your experience.
Check Weather Conditions and Seasonal Factors
The weather can greatly influence the success of your picnic, so it's essential to plan accordingly. Monitor the forecast leading up to your event and make necessary adjustments if needed.
Also, be mindful of seasonal factors that might affect your chosen location. For example, during the spring, some parks may experience heavy pollen levels or increased insect activity. In the fall, early sunsets could impact your ability to enjoy a leisurely evening picnic.
Be Prepared with Picnic Essentials
To ensure a smooth and enjoyable picnic experience, come prepared with all the necessary supplies. Consider packing the following items:
A comfortable blanket or portable chairs for seating
An insulated cooler filled with cold drinks and perishable food items
A separate bag or container for non-perishable foods such as sandwiches, fruit, and snacks
Utensils, plates, cups, and napkins
A cutting board and knife for prepping food on-site
A trash bag for easy cleanup after your meal
Sunscreen, bug spray, and any other necessary personal care items
Practice Good Picnic Etiquette
When enjoying your outdoor meal, be considerate of others sharing the space. Keep your noise level reasonable, clean up after yourself, and respect any posted rules or regulations. By practicing good picnic etiquette, you'll contribute to a positive experience for everyone involved.
In conclusion, finding the perfect picnic spot doesn't have to be a daunting task. With careful planning, research, and preparation, you can discover an amazing location that sets the stage for a memorable and enjoyable outdoor dining experience.